---
Our Mission is to Promote an Inclusive Climate for Utah's Multicultural Communities. • Our Vision is to Be a Model State by Ensuring Equitable Resources and Services to all Utahns.
---
About the Office Of Multicultural Affairs
Multicultural Affairs Office was created by executive order in January of 2012. Established within the Utah's Department of Heritage and Arts The Office of Multicultural Affairs is charged with developing a culturally-diverse outreach program for all ethnic communities. The Office recognizes the importance of developing relationships with the many different communities throughout Utah in order to achieve its important mission.
Read The Governor's Executive Order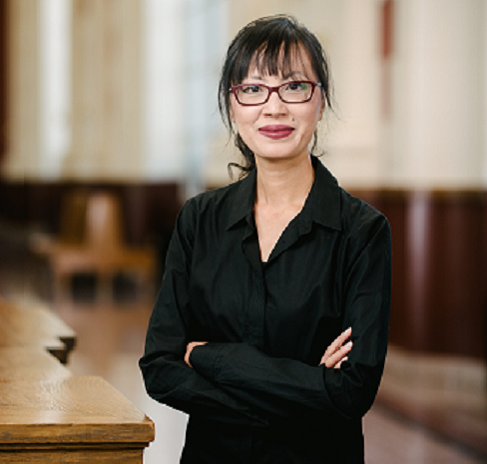 Hong Vu
Director
Hong has over 15 years of experience in academia, healthcare and government, where she has demonstrated leadership in developing intercultural competence training and programs. As a child, Hong came as a refugee with her family from Saigon, Vietnam, to Salt Lake City.
Hong has a Master's in Linguistics, and a Bachelor's of Arts in Art History, both from the University of Utah. Hong said her life experiences and extensive travel, including two years as an English teacher in Taiwan, have given her a deep appreciation for diverse cultures.
Hong has collaborated closely with Utah Lieutenant Governor Spencer Cox, co-chair of the Utah Multicultural Commission, to translate and implement her vision within the Office of Multicultural Affairs to strengthen the partnership between diverse communities, state agencies, and community leaders.
801-245-7211
hvu@utah.gov
Rozanna Benally-Sagg 
Program Specialist
Rozanna Benally-Sagg, comes from a lineage of Diné (Navajo) culture, language, and teachings based in San Juan County (Utah). Her parents and grandparents instilled in her the value and importance of education that has remained strong throughout her life.
After earning her Bachelor of Arts in Speech and Hearing Sciences from the University of New Mexico, she provided speech-language therapy services for 10 years to school-age children. Also, she worked with families in her hometown as director of a family literacy program.
She continues to be a proponent of educational equity and building bridges between community members and state government. 
801-245-7210
rbenally-sagg@utah.gov
Jenny Hor
Program Specialist
Jenny Hor is a program specialist committed to working collectively with underrepresented populations. As a life-long resident of West Valley City, she sees access and diversity as integral foundations ​in​ building strong communities.
Alongside her colleagues, she works to build pipelines to higher education and increase civic engagement among students through the office's youth conferences. She also helps administer the Martin Luther King Jr. Human Rights Commission.
Outside of the office,​ she performs traditional Cambodian dances, a nearly extinct art form, as a​ member of the Khemera Dance Troupe​. She completed her studies in Human Development and Family Studies and Consumer and Community Studies ​from​ the University of Utah.
801-245-7214
jhor@utah.gov