By: Jason Carrillo
Edited by Claudia Loayza & Jenny Hor
Asian Americans have been essential in building and securing the success of our state, and the diverse groups who make up this community continue to thrive and have a strong legacy of celebration through the annual Utah Asian Festival! This event—characterized by performances, delectable food, and an intense showcasing of rich traditions and cultures—just celebrated its 45th anniversary. There's a lot of weight behind those years. The festival began in 1978 by the Asian Association of Utah (AAU), which itself was established the year before. The festival sought to unite, uplift, and connect Utah's many Asian communities together in a single space through highlighting the unique ethnic traditions and diversity that AAU represents.
The Asian Association of Utah provides direct services to the community as well, beyond its establishment of the festival. As refugees from Southeast Asia fled instability and war in the 1970s and 1980s, Utah proved to be one of the most embracing states in the country, rehoming over 12,000 Southeast Asian refugees by 1994. AAU was created at the beginning of this migration period as a unifying representative body of the Asian communities who had called Utah home since before statehood and for the state's new Southeast Asian communities. With the inaugural Utah Asian Festival, it loudly declared that both historic and incoming groups had a place here. AAU helped establish, integrate, and create a sense of belonging for Southeast Asians in Utah—and it continues to serve all of our new refugee communities today.
The 2022 Utah Asian Festival broke records and was the largest in its history! Over 20,000 people attended the festival, which proved to be the most multigenerational and multicultural event the program has ever had by reflecting our statewide growing diversity. The festival featured dozens of passionate performances, food booths that served both traditional and fusion Asian cuisines, and grassroot outreach opportunities from many of the state's Asian American cultural, commercial, and nonprofit organizations. Congratulations to the Utah Asian Festival and AAU for the incredible success—there is only more to come!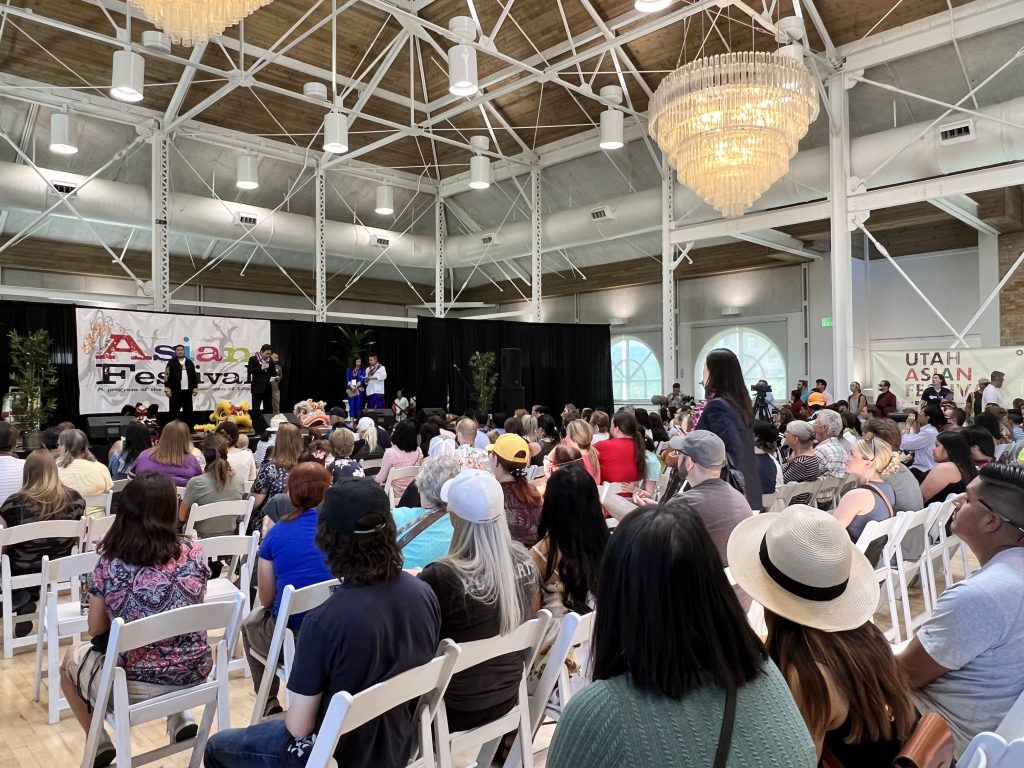 ---
Festival Reflections from the Organizers
Emilio Manuel Camu
"For me, my biggest joy in planning this year's festival was seeing four generations of Utah Asian Americans from diverse backgrounds working together to honor the original intentions of the planning committee of 45 years ago: to unite the Asian communities, showcase our cultures, support Asian-owned businesses, and keep the festival accessible to all, especially to our new immigrant and refugee communities. It's been a lot of work the past nine months, many lessons learned, and our committee has never wavered to ensure that Utah Asian communities feel like this is a place to have a reunion with our friends from all sorts of backgrounds. I'm so proud of my friends, aunties, uncles, and everyone who was part of the committee. I've never had more stress for a festival, and I've never had more fun planning an event."

Co-Chair, Utah Asian Festival
Eunice Lane
"My biggest joy in planning the festival is seeing all these talented energetic young people working together with the senior and experienced planning committee members. The fresh perspective, new ideas to do things broke the old thinking patterns. Through social media, the marketing of the festival brought excitement, anticipation and buzz! The festival team delivered the most exciting, delightful and biggest Utah Asian Festival ever! The lessons and traditions of the festival that I would like to see continue is the celebration of the diversity of all Asians in the state of Utah. We are proud of our heritage and we want to share it! The festival is the only platform where we feel as one community and united. But we still have work to do. We want to belong, be included and have a seat at the table."

Chair, Utah Asian Festival | Chairman of the Board, Asian Association of Utah Refugees Immigrants Center

Rick Lam
"I have had the honor of being involved with the Utah Asian Festival for more than 15 years. During this time, I have seen the dedication of the many volunteers/community leaders as they return year-after-year because of their strong commitment to helping build stronger communities. At the same time, we have had new and younger volunteers and leaders join our planning committee, many of whom have brought fresh and original ideas. They are using their skills and connections to not only continue our tradition, but create new programs; this has been a great benefit bringing multiple age groups of diverse Asian ethnicities together. In addition to the cultural education and performance programs the Festival is known for, it also serves as a hub for many small Asian businesses to come together to help them increase their exposure to the public. The continuous, solid support from Utah state government, different media outlets, and company sponsors have made this festival possible, free of charge, to the public, and we had record participants for our 2022 Festival. I feel very proud to be a member of the Utah Asian Festival committee and of this wonderful Utah community, which is our home. The 2022 Utah Asian Festival exceeded our expectations and we are grateful."

Longstanding Committee Member of 17 Years, Utah Asian Festival
Shu H Cheng, PhD
"The Utah Asian Festival helps to build cultural appreciation of the diverse Asian communities among all Utahns. It also fosters solidarities among Asian members to raise awareness of issues facing Asian American communities. This quote of an Asian participant will capture some of the sentiments, 'my grandma used to help plan the festival and ran a booth…this festival allowed me to reconnect with people in my Asian community, friends of my grandma and mom that I hadn't seen since early childhood…I saw Asian small business owners glow with pride.' We learn that it takes an enormous amount of work of hundreds of volunteers to present each successful festival. It is even more challenging to sustain for 45 years. There will be ups and downs. We need to be recreative in the programming and flexible in allowing new [participants]/multiple sources of representatives to volunteer."

Executive Director, Asian Association of Utah | Co-Founder of Utah Asian Festival

Staff Spotlight:
Jenny Hor
"The Utah Asian Festival is a celebration of the Asian American journey. In preserving the traditional and contemporary aspects of our identities, the space affirms our cultural knowledge and sense of belonging. My participation as a first-year planning committee member is a full circle moment as my earliest memories of the festival is of me performing as an elementary school-aged student. I am honored to have had the opportunity to share space with a multigenerational committee—much like many Asian families—and support an annual experience that is of great significance to so many individuals in Utah."

Planning Committee Member, Utah Asian Festival | Logistics & Project Coordinator, Utah Division of Multicultural Affairs

Additional Resources