Happy Black History Month!
This is a month of celebration every February through March 1st that carries lessons throughout the year. It's a time to reflect on Black figures and leaders in our shared history, but also honor those whose stories and efforts are making a difference to build up thriving communities now and into the future. Its origins come from Dr. Carter G. Woodson, known as the "father of Black history" and an educator who set out to designate a time to promote and educate people about Black history and culture. Dr. Woodson firmly believed that Black people carried important knowledge from their lived experiences that needed to be preserved and shared. In 1915, he created the Association for the Study of Negro Life and History to popularize Black history and celebrate the contributions of Black people. As an educator, he also advocated for better school systems across the country to disrupt discrimination and the lack of Black history taught at the time. Today his work continues through the Association for the Study of African American Life and History (ASALH) who designates a new theme for Black History Month each year, in keeping with the practice Woodson established in the 1900s. This year's theme, Black Health and Wellness, acknowledges the legacy of not only Black scholars and medical practitioners, but also community-based health efforts through community health workers, doulas, and more.
At the Utah Division of Multicultural Affairs, we acknowledge the need to celebrate the many personal journeys and lived experiences that provide context to Black History in our state and nation. Dr. Woodson let his identities as an educator, scholar, and community advocate lead his legacy and he stepped into his power as an influential historian whose work we continue to cherish. In Utah, we likewise recognize the various community leaders across the state that sought out and continue to build spaces to celebrate Black history, joy, and healing.
We also join Governor Spencer J. Cox in officially declaring this time as Black History Month in Utah, and in thanking the community for their contributions, lessons, and powerful presence.
Celebrating Personally Defining Joy in the Black Community
As the Black community continues to grow in Utah, following the milestone 4.7% statewide population increase between 2010 and 2020, totaling to about 38,000 people — it's important to understand that there are many chapters to the broader story of the growing diversity in Utah and to the Black Diaspora.
This is where we also encourage more freedom and flexibility in defining joy and accomplishments for communities. There are many elements to a person and to a community, and this Black History Month, we also honor this act of mindfully creating thriving environments for our Black communities.
It is clear that the Black experience is a mosaic of stories, starts, passions, and desired outcomes. Excellence, success, and fulfillment is not one path or a strict definition, it has the freedom to change. Black communities should have the power to just "be" and strive for a personal journey that is meaningful to them and those around them. We asked a group of Black Utahns how they celebrate Black History Month and how they claim the power to define what fulfillment means to them and how their personal journeys have led them to find joy.
Black Community Members Share Their Thoughts
Minding Your Mind: Centering Healing in the Black Experience | Dr. LaShawn C. Williams, Relational Spaces & the Utah Center for Connection
"Some days, just surviving another day of structural racism is worthy of celebration! When I intentionally celebrate Black History Month, I focus on indulging in the magic and the essence and the excellence of Blackness. I choose books to read and documentaries to watch to connect with my histories as a Southern Black woman from a military and Baptist family. It's important to [claim the power to define what fulfillment and joy means on a personal level] because it's how I sit easily with saying "yes" to rest and restoration. So much of my life as a Black person is spent navigating the ill-formed and uninformed opinions of others that by choosing ways to rest and recover and rejuvenate myself and my humanity is such a joyful process. I am so lifted by the undercurrent of Black joy that never leaves me and embeds itself in all that I do."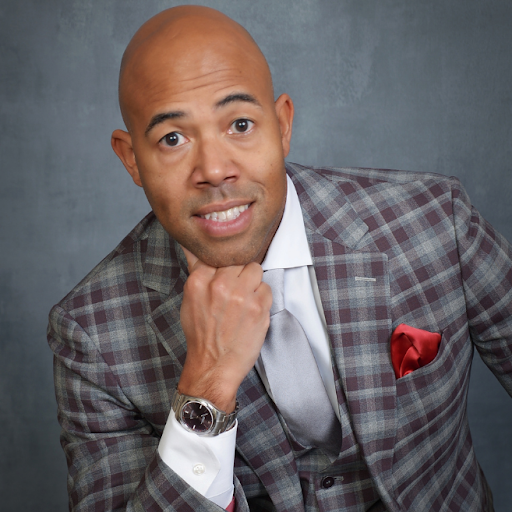 Community Building: Supporting & Mentoring Black Physicians | Dr. Richard Ferguson, Founder and President of Black Physicians of Utah
"Black History I see as time to educate all Americans about the contributions of Black Americans throughout our history and those Black Americans that are current history makers. Over the last 8 years I have enjoyed teaching teens and other young adults to be proud of the accomplishments of not only past Black Americans but those in the present that are making a difference in everyday life. Beyond educating our youth about empowering individuals from our past I also take the time to support Black businesses and entertainers more than I normally would throughout the year. I find being fulfilled as a place of emotional contentment without the trappings of material possessions, wealth or success. I find power in knowing that I am content with who I am and the contributions I make to better the lives of my family and friends. Building self-confidence drives my capacity for success and thus continues the cycle of fulfillment. I find the most joy when I can take a truly altruistic action and expect nothing in return. Fulfillment becomes more consistent and success typically follows if you focus more on being happy as opposed to 'keeping up' with one's peers and associates."
Cooking Up Change: Food as Storytelling | Chef Cathy Tshilombo-Lokemba, Mama Africa
"I celebrate Black History month by giving tribute to my ancestors and by recognizing the beautiful legacy that they have passed down to us, from generation to generation. I find joy in my work and business by sharing my amazing culture with my community and leading by example to empower other Black entrepreneurs to build and develop self-confidence and be an asset to their communities at large."
Artful Conversations: Murals and Art as Black Expression of Joy | Blondine Jean-Packard, Artist
"Each day I take some time to meditate and breathe. I celebrate and honor my existence as a daughter of God and reflect on how far I have come in history. It's quite beautiful and remarkable, knowing that my power stems from my ancestors who paved the way before me. They created a path to prevent me from being heavily burdened or inundated with tasks. They want me to live a happy life. I honor my ancestors by being at peace and feeling free to express myself in whatever form whether it be joy, anger or sorrow. I try to live a life of serving others and often that looks like making sure I'm energized. I hope to pass this on to my children and grandchildren."
Blondine Jean-Packard is a Haitian American artist who painted the "Black Joy" mural found in Salt Lake City's Sugarhouse neighborhood. The mural drew inspiration from recorded discussions from the Utahn Conversations Project. The project aims to have constructive dialogues within Utah communities around race while creating safe spaces for people of color and the LGBTQ+ community. Blondine further shares that "Black joy is radical…and pretty powerful because it's having joy in spite of the pain" (Martinez, 2021).
As we continue to celebrate Black History Month, take a moment to review a snapshot of organizations that directly serve the Black Community and build awareness for everyone on what it means to honor Black history, excellence and healing!
"Just like the moons and like suns with the certainty of tides. Just like the hopes springing high, still I'll rise."
– Maya Angelou