When youth are given the chance to voice their concerns in a powerful space, emerging leaders are born and their stories are elevated. "Having the opportunity today to share my story and express the changes I want to see really helped me feel empowerment for myself and encourages me to share my story more," said Lexee, a First Star Academy Scholar. Lexee is amongst a cohort of youth in foster care attending a summer intensive program that seeks to ensure that transitional aged foster youth in Utah have access to college as well as opportunities to develop essential skills needed for adulthood. She and her peers, spent the afternoon of July 30 at the Utah State Capitol where they were able to pitch solutions to a panel of community leaders about issues facing society today and for some, uniquely affecting their own lives.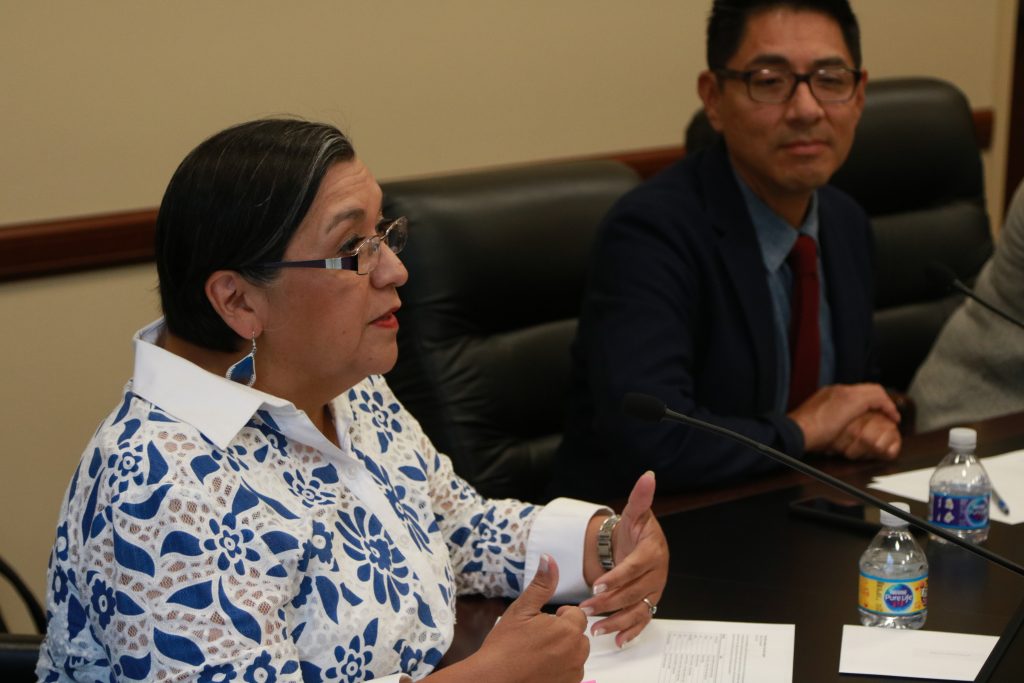 The committee included Rebecca Chavez-Houck, former House Representative, Tasha Williams, Utah Juvenile Defender Attorney, Martin Muñoz, Salt Lake City Corporation, Fatima Dirie, Salt Lake City Mayor's Office of Diversity & Human Rights and Kyle Ethelbah, Director of the University of Utah TRIO programs. The panelists listened intently as students presented about serious topics such as sexual assault victim visibilty, revising school detention standards, and police brutality. Many of the youth, spanning the ages of 13 to 17, displayed determination and insight beyond their years. Some shared personal stories of having to grow up quickly and as a result, were forced to survive rather than thrive. The First Star Academy at the University of Utah addresses these situations by seeking to "improve the lives of foster youth by partnering with child welfare agencies, universities, and school districts to ensure foster youth have the academic, life skills, and adult supports needed to successfully transition to higher education and adulthood." By collaborating with the Utah Division of Multicultural Affairs (MCA), the youth were provided with a wholesome legislative experience that showed them that their voices mattered and they had a place in policy change.
As they presented their "policy pitches," the community leaders provided feedback on how they could build their speaking presence and follow-through with their proposals. Most importantly, they affirmed their resilience as emerging leaders and meaningful agents of change. Panelists, were given the opportunity to share their own stories to establish a deeper connection with the youth. Ethelbah, recounted his upbringing on the White Mountain Apache reservation, where college opportunities tend to be scarce. He lost his entire immediate family to either suicide, alcohol abuse or domestic violence, which brought him to live with his grandmother and many times forcing him to navigate life alone. Through college-preparatory programs he was able to apply for college and thrive at the University of Arizona with the help of multicultural student resources. He described these programs, not just as helpful, but as "life-saving." In addressing the youth, he said, "You have an impact. We hear you." He and other panelists expressed the need to seek out opportunities for growth and learning, and encouraged First Star Scholars to continue to use their personal stories as strengths.
The visit also included an impromptu Q&A with Senator Jerry Stevenson and a call-and-response activity, where the statements "I belong here." and "I matter." echoed through the Senate Building, leaving the youth with a sense of empowerment and affirmation. Fatuma, a 14 year old refugee scholar, reported in response to the event, "I just want to tell kids around the world that they have the power, they can speak up, and tell the world their feelings…I just want to say that you matter and you are important." First Star Academy of Utah in collaboration with the Utah Division of Multicultural Affairs (MCA), commits to spreading this powerful message and provide opportunities for young people to be change makers. Jojo Liu, a board member of the First Star Academy of Utah shared these closing thoughts expressing her hopes for this collective effort: "The entire First Star community — scholars, staff, and the Board– are so grateful to MCA for creating this opportunity for our scholars to elevate their voices in the area of public policy and see themselves (and be seen) as agents of positive change. Our day at the capitol was definitely the highlight of an already incredible summer for First Star scholars . We hope this is just the beginning in a continued partnership with MCA."