By Jason Carrillo
Edited by Claudia Loayza & Maegan Castleton
In June we celebrated Pride Month! This is the time when communities across the country celebrate the identities and accomplishments of their LGBTQIA+ family, friends, neighbors, and— most importantly— themselves! At the conclusion of Pride Month, the Utah Division of Multicultural Affairs (MCA) was honored to host a public conversation populated by esteemed panelists: En with Burning Sissy Valley, Ana Chavarri with Encircle, and community member Scott Willie. Moderated by Utah Division of Multicultural Affairs' own Maegan Castleton, our amazing community leaders reflected on their identities, sense of belonging, and civic approaches. It's the advocacy folks like our panelists that are helping create a more welcoming and inclusive space for our lesbian, gay, bisexual, transgender, queer, intersex, asexual, and more (LGBTQIA+) community members— we cannot honor them enough for their efforts!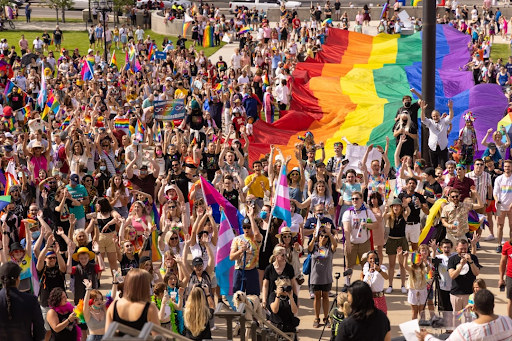 When Did Pride Month Begin?
Pride Month has been celebrated in the United States for decades, being founded on the birth of the Gay Liberation Movement in commemoration of the 1969 Stonewall Riots, which occurred in late June. The colorfully vibrant parades and celebrations that we now associate with Pride Month began at a time when homosexual relationships were criminalized and LGBTQIA+ community members were regularly harassed and discriminated against. Despite these debilitating obstacles, our queer and trans communities pesevered and thrived in the expression of their identities and the ability to proudly establish their places of belonging.
Scott Willie, Community Member
"I think checking in on folks who identify as LGBTQ+ and ensuring that they are safe, that they are visible, and that they are heard. Not coming in trying to approach every situation with a bias or background where LGBTQ folks are potentially categorized in a way that defines their sexuality. We have so many issues within our community: infectious disease, mental health, these are things that encapsulate our experiences as LGBTQ+…"
Pride in Utah
Utah's first Pride organizations were founded at the crux of the Gay Liberation Movement, and have grown in influence and popularity. LGBTQIA+ Utahns faced extra challenges to live authentically, battle discrimination, and find safe spaces of belonging in a state that had still criminalized gay relationships at the time of Salt Lake City's first Pride march in 1990. But again, these persevering communities overcame challenges to their right to exist as the identities they are, and Utah's Pride celebration has grown from 250 attendees in 1974 to up to 70,000 in 2022. Salt Lake City now frequently ranks in the top 10 most LGBTQIA+ friendly cities in the nation, and is even home to more queer and trans individuals per capita than cities like Los Angeles.
Ana Chavarri, Encircle Utah
"I think defining a safe space is important, I believe it's a place where you can feel loved, and you can feel authentic, and where you can engage in meaningful conversations to find support and connection."
Diversity in Pride
The annual success of Pride and continuous growth and migration of LGBTQIA+ communities to Utah from across the intermountain west only further entrenches and emphasizes the necessity and belonging that these communities have in our state. However there is a lot of diversity in not only the personal experiences of our queer and trans communities, but also in their cultural, ethnic, and racial identities. LGBTQIA+ Black, Indigenous, and people of color (BIPOC) face some of the highest rates of inequality and marginalization in the United States.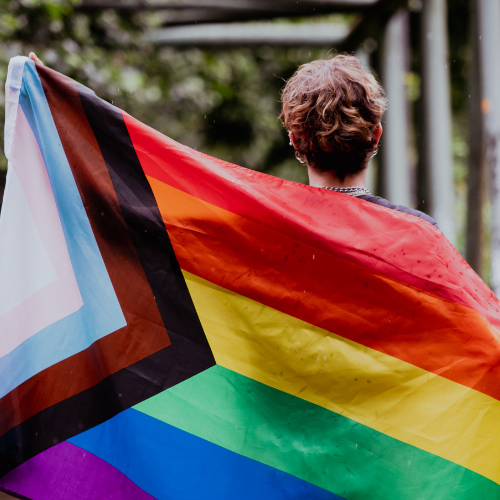 En Canada, Burning Sissy Valley
"I think we like to imagine that 'Oh it's 2022 everything is accepting and amazing.' But we need to acknowledge the reality that that's not how things are. It really depends on the spaces we're in…If my boss doesn't understand, agree, or accept my identities then I have a barrier there, and then it doesn't matter if there are anti-discrimination laws if that person has a judgement of me."
The complexities of identity that queer and trans BIPOC communities experience can make it difficult for them to thrive in domestic and professional spaces, and a whole new wall of obstacles are introduced if these individuals are New Americans (foreign born immigrants and refugees). These diverse LGBTQIA+ individuals and communities quickly become ingrained and integral to building success in our state, so they will always find a way to thrive if they haven't already. However, learning to be conscious and respectful of these complex identities through helping cultivate welcoming spaces will go an incredibly long way in a Utah that becomes more multicultural by the day.
Maegan Castleton, Utah Division of Multicultural Affairs
"There are many complexities not only with how society sees LGBTQIA+ folks, but how we see ourselves. We have commonalities, but each of us experience our own unique journey with gender and sexuality. In our work for acceptance, safety, and health, it is important to keep in mind that no one is a monolith. In my eyes there is no wrong way to be yourself, and it's okay to make space for that. We choose, both inwardly and outwardly, how to express the truth of who we are. Happy Pride!"
Additional Resources
Utah LGBTQ+ Chamber of Commerce