This past April marked the month of Ramadan! It's during this holy period when millions of Muslims worldwide give up food and water in dedication to their faith. In recognition of this tradition, the Utah Division of Multicultural Affairs (MCA) excitedly honored our local Muslim community and their invaluable contributions to our state.
In an online event, the Division of Multicultural Affairs hosted a public conversation featuring some of the esteemed leaders from our local Muslim community—Nora Abu-Dan of the Emerald Project, Luna Banuri of the Utah Muslim Civic League, and Muslim community member Abdikadir Eftin. We thank and honor these individuals, and the community as a whole, for sharing the cultural and religious significance of Ramadan.
What is Ramadan?
Ramadan is observed on the ninth month of the Islamic calendar, and is recognized as the most significant and holy period of the faith's lunar year. The word Ramadan comes from the old-Arabic root 'ar-ramad' which means 'scarcity of rations', an appropriate origin considering it's during this time that millions of Muslims worldwide participate in a month-long fast from dawn to dusk. Abstaining from food and water makes Ramadan's fast a time of personal reflection and spiritual engagement. Those who are sick, pregnant, menstruating, or otherwise physically unable to fast are exempt, but still taught to pursue the lessons of the holy period and finish the fast at a later time. Although individual pursuits like creating a closer relationship to Allah (God) and self-discipline are encouraged, practicing material sacrifice, charity, and compassion for those less fortunate is also emphasized during the month. Ultimately, while faith is an integral part of Ramadan, spending time and expressing generosity to friends, family, and community also make the month as important as it is.
Nora Abu-Dan, Emerald Project
"Of course there's that religious aspect of reading the Quran and going to the masjid, but it's also coming together, sharing your favorite meals, and making it a time to be together, reflect, and help your community members as well. So whatever you would have spent on lunch or breakfast that day, try to spend it on someone else. Whether it's a friend or family member that is struggling, or even local people in the community that are struggling with food insecurity or homelessness."
Ramadan in Utah
Utah's Muslim community created their first physical space of belonging in 1985 with the opening of the Masjid Al-Noor, and today there are ten mosques across the state for its 15,000-20,000 followers. After 20 years of exponential growth, the state has seen greater communal and civic participation from its Muslim community, with public Iftar dinners led by various Islamic organizations quickly becoming an annual tradition.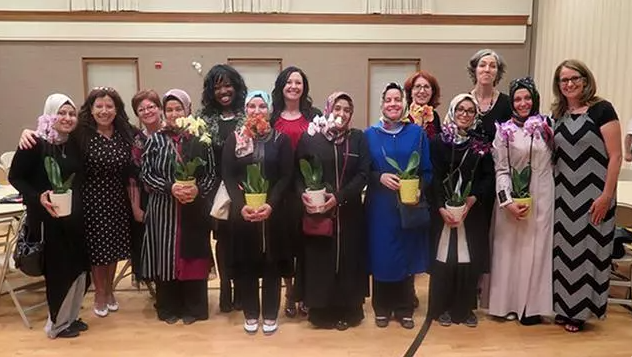 Hosting events like these in interfaith, civic, and communal spaces helps for better understanding of the Islamic faith and teaches non-Muslims in Utah how to be considerate to those observing Ramadan. The state's Muslim population is only expected to grow, so learning how to be supportive of this ever-growing community will go a long way in the future.
Abdikadir Eftin, Community Member
"There's a misconception that Ramadan is the only time Muslims can be Muslim in their workplaces. Yes, it's our holy month, the main month to focus on us, Allah, and charity—but it goes so much more beyond that. People say, 'So you fasted for thirty days, what do you do after?' Well I'm still a Muslim after. There's still things that I'd hope to be met, I still have to practice my five pillars of faith… Allow your employees a small space they can use for prayer for 12 minutes, that goes a very long way."
Diversity During Ramadan
It's important to note that Islam is a global religion, so the ways Ramadan is observed from nation to nation, culture to culture, is overwhelmingly diverse. Muslims are not a monolith, so the traditions that an individual or group follows during Ramadan does not represent the experiences of the hundreds of millions of Muslims around the world. The Islamic Society of Greater Salt Lake alone represents migrants from at least 35 Muslim-majority nations. The games played, meals cooked, and shows watched will differ across the Muslim world—and as the diverse array of Muslim migrants interact and share space with each other in places like Salt Lake City, more traditions are bound to be created.
Luna Banuri, Utah Muslim Civic League
"We are a very diverse community, so some things that folks practice—for example not listening to music—other people might not practice that way. To assume that you've met one Muslim who is practicing Ramadan, or Islam, in one way as the absolutely only way is not a smart way to look at it. Each of us practice differently."
To better understand Ramadan and hear about the diverse ways the month is observed, listen to our esteemed Muslim community leaders engage in conversation here.
Keep Learning