By: Jason Carrillo, Edited By: MCA Team.
Header photo taken by Utah State Office of the Governor
Building the Beloved Utah
This Dr. Martin Luther King Jr. (MLK) Day, Utah's MLK Jr. Human Rights Commission organized an event to commemorate the legacy of the iconic civil and human rights advocate. Dr. King left a lasting impact not only through his direct civic and community influence, but also through sharing transformative philosophical principles which emphasize belonging, equity, and nonviolence. As our statewide community prepares to celebrate Black History Month in February, it is important to revisit the ideals Dr. King devoted his life to, because they remain just as significantly useful today as they were decades ago.

This year will mark the 60th anniversary of the March on Washington for Jobs and Freedom, where MLK delivered the historic "I Have a Dream" speech; anniversaries like this make it especially important to honor the transformative impact Dr. King has had on our nation. So, in partnership with the Utah Division of Multicultural Affairs (MCA), Utah Jazz, Goldman Sachs, and L3Harris Technologies—the MLK Commission worked to pass on Dr. King's loving ideals to the newest generation of Utahns.
MLK Day 2023 was hosted in downtown Salt Lake City's Vivint Arena, where students and their guardians were invited to observe this important holiday. In an iconic space where Utahns regularly find comradery and pride in their statewide community, the MLK Commission handed out new sneakers, t-shirts, and backpacks to students ready to celebrate Dr. King's contributions. Thank you to the Utah Jazz's Community Relations Manager, Katrice Dickson, for making this venue possible!
"Once again, collaboration with the Utah Jazz has proven to be successful. In my experience over the past four years, our partnership with the Utah Jazz has helped the MLK Commission to further strengthen relationships with various other organizations to produce an enriching experience for youth in our communities while celebrating Dr. King's legacy. The planning meetings always resulted in action and positive outcomes. This year's event was greatly enhanced with the Governor and First Lady's involvement. The event was a huge step toward Utah becoming the Beloved Community through our engagement with the community of youth, who are our future."

Bridget Shears, MLK Jr. Human Rights Commission Chair
With an introduction from the Vice Chair of the MLK Commission, Aanjel Clayton, Gov. Spencer Cox and First Lady Abby Cox arrived to celebrate the legacy of Dr. King alongside students, parents, and organizers. The Governor and First Lady spoke on the importance of remembering Dr. King's sacrifices and to strive to help build our state and nation into one which embraces connecting through our differences, treating each other as equals through respect and kindness, and combating the empathy crisis our nation is facing. Tune into First Lady Abby Cox's podcast to hear how she does her part in this process!
After a student-led Governor Q&A, the Goldman Sachs team moderated a coding activity for our youngest generation of Utahns. In introducing Dr. King's six principles of nonviolence, this activity taught students lifelong skills on not only how to observe and celebrate MLK Day, but also how to engage in civil discourse and understand the necessity for empathy. A vital part of the Commission's purpose and vision is to bring Dr. King's legacy and message of nonviolent social action to all citizens of Utah, and therefore they have prepared a publicly accessible toolkit to offer ideas on how to reflect on Dr. King's legacy for private, public, and/or educational purposes!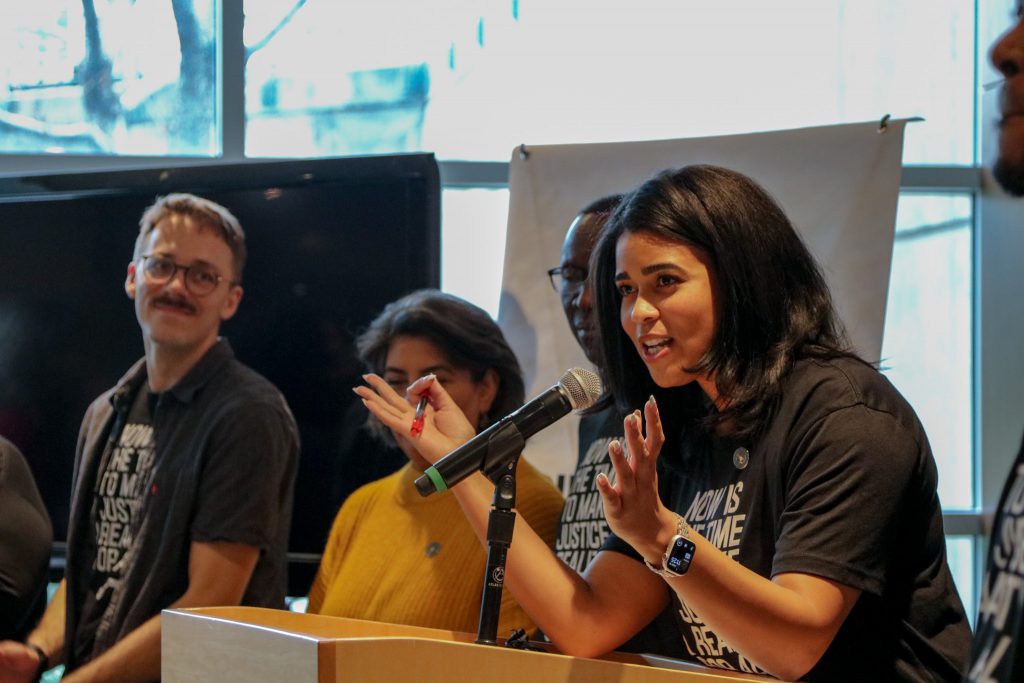 "What resonated with me about the event is the way that everyone from the Commission as well as the community partners came together to make the event a great success. It was so great to see the students engage with the Governor and the First Lady as well as enjoying the workshop on the six principles of nonviolence. The message that the First Lady shared on proximity and hearing each other's story is a great way to get closer to Dr. King's vision on creating the "beloved community." Proximity breeds familiarity and the more proximity we can create with people who have different stories than us, the more we will come closer as a community."

Rizvan Gurmu, MLK Jr. Human Rights Commissioner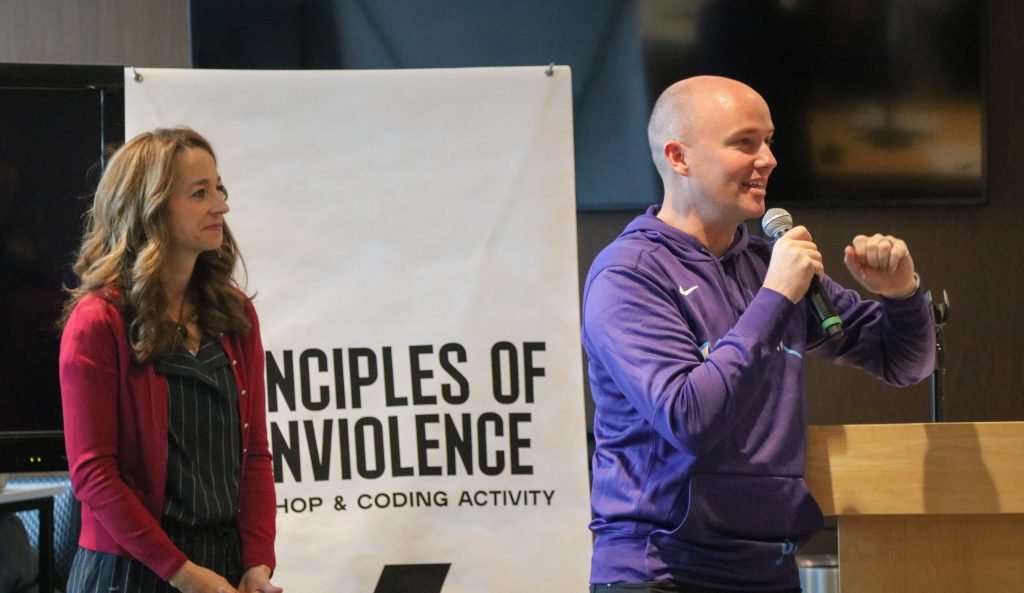 The morning climatically ended on the court with an exclusive session from the Junior Jazz basketball program! The Junior Jazz—the longest running youth basketball league in the NBA—coached the students on how to apply Dr. King's teachings to their program's ideals of teamwork and sportsmanship. Students excitedly learned and played on the same court that their NBA idols compete on, learning fundamental basketball skills to accompany their newly taught principles of nonviolence and empathy. Students and their guardians will be the ones deciding what direction Utah will take in the future, so we cannot express how thankful we are for their receptiveness in celebrating and observing MLK Day with us!
"[My son and I] were both so thankful we got to come! The whole event was well-planned and well-executed. I hope students will go home with an increased appreciation for MLK's courage and determination to make the world become the place he dreamed it could be. Thank you so much for your efforts to bring attention to this very important issue! Thank you to all the sponsors who contributed to yesterday's event. My students and I are listening to Dr. King's "I Have a Dream" speech and discussing its implications for us…One of my favorite parts of [of the program] was the coding activity that allowed students to discover for themselves what MLK's principles of non-violence were. Gov. Cox mentioned how we build community by serving. Something I would love to see is a service project where participants can practice being part of the 'beloved community'"'

Allisa Lidiard, Parent & Sanpete School District Educator
Traveled over 100 miles to attend the event.
Thank you to MLK Commission Chair Bridget Shears and MCA's very own Jenny Hor for their part in making this event possible!
And of course, special thanks to our sponsors: the Utah Jazz, Comcast, Goldman Sachs, L3Harris Technologies, Show Up Utah, and Zions Bank—this impactful day could not have been possible without your support!