---
Our Mission is to Promote an Inclusive Climate for Utah's Multicultural Communities. • Our Vision is to Be a Model State by Ensuring Equitable Resources and Services to all Utahns.
---
About the Utah Division Of Multicultural Affairs
---
The Multicultural Affairs Office was created by executive order in January 2012. During the 2019 legislative session, a housekeeping bill codified the Office thereby renaming and structuring it as the Utah Division of Multicultural Affairs under the Utah Department of Heritage and Arts, and solidifying its integral role in state law. The Division recognizes the importance of developing relationships with the many different communities throughout Utah in order to achieve its important mission.
---
---
Read The Governor's Executive Order
---
---
The Utah Division of Multicultural Affairs is invested in promoting greater understanding of equity, access, and inclusion so that we can support diverse populations that meaningfully impact Utah's educational system, growing workforce, economy, and quality of life.
Our vision for impact across Utah has translated into three foundational pillars: Youth Leadership, Training Resources and Professional Development, and Community Engagement.
The strategic model was influenced by our increasingly diverse and changing demographics in Utah. This has led us to intentionally focus on empowering emerging leaders and underrepresented communities to support a vibrant and thriving Utah for all.
Through dynamic partnerships that are committed to cultivating communities that celebrate diversity, we believe we can all do our part to ensure people feel like they belong and this is their home—a place to invest in.
---
Build awareness of pathways to higher education and empower emerging leaders to see themselves in spaces of achievement.
Training Resources & Development
---
Develop capacity building resources to promote an inclusive and welcoming climate in Utah across sectors.
---
Collaborate on initiatives that address the needs of and celebrate historically resilient communities.
CONTACT INFO & STAFF BIOs
Nubia Peña
---
---
---
---
Nubia Peña is the Director for the Utah Division of Multicultural Affairs where their mission is to promote an inclusive climate for Utah's growing diverse community through training, outreach and youth leadership development.
She is a national training consultant dedicated to bringing awareness to intersections of trauma and the School-to- Prison Pipeline, an epidemic that targets our most vulnerable youth by streamlining them into the juvenile justice system.
She received her Juris Doctorate from the University of Utah S.J. Quinney College of Law in May 2016. During that year, she was selected as one of 25 law students in the nation to be recognized and highlighted for her social justice activism in the National Jurist, a leading news source in legal education. Due to Director Peña's longstanding commitment to youth rights, empowerment, and leadership development, she was selected as the recipient of the National Juvenile Justice Network 2019 Emerging Leader Award.
In addition, Director Peña is certified by the National Juvenile Defender Center as a Juvenile Training Immersion Program facilitator. She has actively sought to bring awareness to issues of violence and systemic oppression through her personal faith-based and professional endeavors.
Preferred Pronouns: She, her, hers
---
---
---
---
Program Specialist
---
Jenny Hor (pronounced "How") is a program specialist committed to working collectively with communities of color to create spaces of diversity, equity and inclusion. She hopes to honor the cultural abundance of a community in her line of work. 
Alongside her colleagues, she works to build pipelines to higher education and to increase civic engagement among diverse students through the office's youth conferences. She also helps administer the Martin Luther King Jr. Human Rights Commission.
In honoring her lineage and sustaining her cultural sense of self,​ she performs traditional Khmer (Cambodian) dances as a​ senior member of the Khemera Dance Troupe​. Additionally, she received her bachelor's degree in Human Development and Family Studies and Consumer and Community Studies with a minor in Political Science ​from​ the University of Utah.
Preferred Pronouns: she, her, hers
---
---
---
Program Specialist
---
Rozanna Benally-Sagg, comes from a lineage of Diné (Navajo) culture, language, and teachings based in San Juan County (Utah). Her parents and grandparents instilled in her the value and importance of education that has remained strong throughout her life.
After earning her Bachelor of Arts in Speech and Hearing Sciences from the University of New Mexico, she provided speech-language therapy services for 10 years to school-age children. Also, she worked with families in her hometown as director of a family literacy program.
She continues to be a proponent of educational equity and building bridges between community members and state government.
---
---
---
Communications & Community Engagement Coordinator
---
Claudia Loayza is passionate about the intersections of opportunity, place, and justice. City planning became her conduit for this drive and she believes that the state of a community depends on how accessible it is for people to work, play, navigate, and thrive in their environments, especially for historically marginalized groups.
She graduated from Brigham Young University with a Bachelor of Science where she studied the crosses between urban design and public health. She is currently attending the University of Utah's Masters in City and Metropolitan Planning program to better address disparities in city planning, health, and transportation from a systemic approach.
Reach out to her for any communications needs including website and social media requests!
Preferred Pronouns: She, her, hers, ella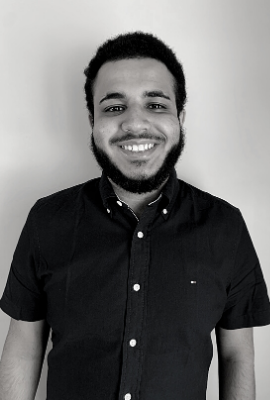 ---
---
---
Ramy Ahmed was born and raised in Salt Lake City, Utah. He is the son of two Muslim Egyptian immigrants, making him the first generation of his family to be brought up in the United States.
Ramy uses his background, heritage and experiences as a guide to push him towards advocacy for underprivileged and underrepresented groups. He recently graduated from the University of Utah, in Spring 2020, with a Bachelors of Science in Health, Society, and Policy. He is looking to continue his education, and is planning on pursuing a Master's degree in Healthcare Management.
Ramy is passionate about finding equity in health systems for all, not just through health care, but also through systemic changes, including food systems, mental health, and youth education
---
---
---
Born in Argentina Mayra is a proud first-generation immigrant and student. She is a recent graduate from the University of Utah, majoring in International Studies with an emphasis on Global Health.
Her degree will not only serve her, and her family, but her community as well. With a small family of four, her mother's dreams have been passed down to her. Family has always been the center of her life, inspiring her to stand up for undocumented student and immigrant rights.
She hopes to pursue a career in public health to promote health equity while maintain helping families as her main focus in life.
---
---
---
Maegan Castleton is a University of Utah senior with a deep passion for social justice and art. She is currently studying Film and Media Arts with an Animation Emphasis, which builds on her love for stories. Maegan hopes to blend her interest in the creative field with the drive to help others in marginalized communities.

Maegan used to be a Residential Advisor at her university where she learned the importance of community, education, and civic engagement. Maegan aspires to help the LGBTQIA+ community that she is a part of with these important pillars of life, and wants every individual to feel that their voice is heard no matter the identity.

Pronouns are She/Her/Hers.